Since the Biden Administration opened up America's southern border on January 20, 2021 Americans have watched the sad spectacle of Biden's guests drowning as they try to cross the Rio Grande River. But there is a much sadder scene taking place in Brooks County, Texas, 70 miles from the border.
1,000 TO 2,000 BODIES IN ONE SMALL TEXAS COUNTY SINCE BIDEN OPENED OUR SOUTHERN BORDER
From January 2022 through September 2022 locals recovered 79 bodies in this county of only 944-square miles, Sheriff Urbino "Benny" Martinez told The Epoch Times' The Nation Speaks. In 2021 Brooks County officials recovered 119 bodies on ranch lands throughout the county. Compare this carnage to 2020 when only 34 bodies were recovered.
Martinez, a Democrat, estimates that for every body they find, ANOTHER 5 to 10 are never recovered.  The population of the county is only 7,027. Think about THAT.  By the end of Biden's four years, Brooks County will, literally, have more bodies than breathing residents, ALL due to the administration's plan to destroy our national sovereignty.
BIDEN IS HIDING THE BODY COUNT
The Biden administration has broken a long-standing policy of releasing the number of illegal immigrants who die while crossing into the United States, or soon after.
Before Biden took office Customs and Border Protection (CBP) published on its website the number of known migrant deaths along the southern border; therefore, the public has access to the figures from fiscal 1998 to fiscal 2020.* Biden stopped that. Their website has no figures for Fiscal Years 2021 and 2022, nor for FY2023.
CBP data show 247 illegal aliens died near the border during FY2020, while 300 died in FY2019. Some reports suggest the body count for FY2022, which ended September 30, 2022, is close to 800.
As this article goes to press, we are nearing the end of the fourth month of Fiscal Year 2023. And the bodies keep piling up** because the Biden Administration advertises that ALL are welcome. If you can get here, American taxpayers will take care of you.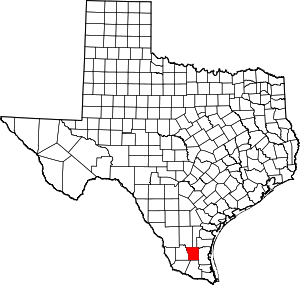 Brooks County is 70 miles from America's southern border.
"I MEAN, WHAT IS COMPASSIONATE ABOUT THAT?"
Sheriff Martinez believes once Biden's guests have crossed the border from Mexico, too many become lost or injured while trekking through remote areas of the county. Many likely fall victim to the South Texas heat. The death rate has continued to climb under Biden's lawlessness despite the fact that the county has set up water stations and emergency beacons across the county for Biden's invitees who need help. The cost is bore by Texans since the federal government takes no responsibility.
Brooks County is 70 miles north of the border, has a population of only 7,027 and their sheriff's office spends more than 85 percent of the its time on issues pertaining to illegal aliens. They search for illegals who have called 911 (using Biden-provided cell phones?) and are lost, dehydrated or injured as they walk on private ranchland in an attempt to skirt the nearby highway checkpoint that Border Patrol operates. Other times sheriff deputies are looking for a dead body. The total cost falls upon the shoulders of local taxpayers, including funeral expenses.
The busiest months are during summer, as most people die from a combination of dehydration and hyperthermia. Smugglers (coyotes) leave illegals behind if they're slow or injured. Water is scarce and it's easy to get lost. Biden doesn't care as dead illegals are of no use to him.
Martinez, a Democrat, was elected in 2016. Here, he explains the county's unique terrain:
"Our terrain is real sandy.  We're about 100 foot above sea level.  So once that sand starts going over that body, and that body starts getting torn apart by the feral hog, by the coyote … the only time it's recovered is when they're moving cattle and they turn the soil over… [and] a skull would pop up, or something.  Body parts would pop up.  That's how we're going to find out that something laid there for a while.  I mean, what is compassionate about that?"
*Fiscal years run from October 1st to September 30th. For example, Fiscal Year 2020 began October 1, 2019 and ended September 30, 2020. Fiscal Year 2023 began in October 1, 2022.
**The Epoch Times has made multiple requests to CBP for the missing data from fiscal years 2021 and 2022, including a Freedom of Information request. To date, the agency has failed to provide that information.