US Subversives Spreading Communist Cancer in Latin America: De Varona on The Sentinel Report
American subversives in organizations such as the Council on Foreign Relations (CFR) have been responsible for aiding and abetting the rise of Communism throughout Latin America and beyond, anti-communist expert and leader Frank de Varona tells Alex Newman in the December 14 episode of The Sentinel Report.
From Cuba to Colombia, Deep State globalists have been crucial in the overthrow of liberty and the spread of the cancerous ideology of communism, warned De Varona, who has met 5 U.S. presidents over his lifetime and invaded Cuba in the Bay of Pigs operation at age 17. He was imprisoned and tortured for 2 years in a Cuban gulag.
Newman and Varona also spoke about an article they did in 2018 about the betrayal of the Bay of Pigs forces by top U.S. globalists such as Allen Dulles and others. You can read that article from The New American magazine here: U.S. Globalists Put Castro in Power and Kept Him There.
More recently, the Obama administration and George Soros helped betray Colombia, with the Biden administration removing the mass-murdering narco-terrorist group FARC from the State Department's list of foreign terrorist organizations.
Frank de Varona is an educator, historian, journalist, and internationally known expert on Hispanic contributions to the United States, politics, economics, foreign affairs, and national security issues. Frank was born in Camagüey, Cuba in 1943.
At the age of 17, he participated in the Bay of Pigs invasion in 1961 to eradicate communism in Cuba. After spending two years in prison, where he was tortured along with other prisoners of war, he returned to the United States, where he earned a B.A. in political science and economics, a Certificate in Latin American Studies, a Master's in social studies, and a Specialist in Educational Administration and Supervision.
Among other key jobs, he worked for the State Department. He also served as associate superintendent of instruction and and interim deputy superintendent of schools for Miami-Dade County School District, one of the largest in America. He has written for countless publications and is a regular contributor to The Liberty Sentinel.
Frank has written almost 30 books and has received numerous prestigious awards. King Juan Carlos I of Spain awarded Professor de Varona the Cross of Royal Order of Isabel La Católica with the rank of Commander (highest rank) in 1994. He also received the Imperial Byzantine Order of Constantine the Great with the rank of Commander in 1991 and the Great Cross of Knight of National Brotherhood of the Monarchy of Spain in 2015.
Throughout his life, Frank has met 5 U.S. presidents including Donald Trump after helping to deliver Florida for Trump in 2016. President Ronald Reagan invited Professor de Varona to the White House on three occasions. Frank was also selected to present Donald J. Trump with the coat of arms of the Brigade 2506 when he visited the Museum of the Bay of Pigs Veteran Association Assault Brigade 2506.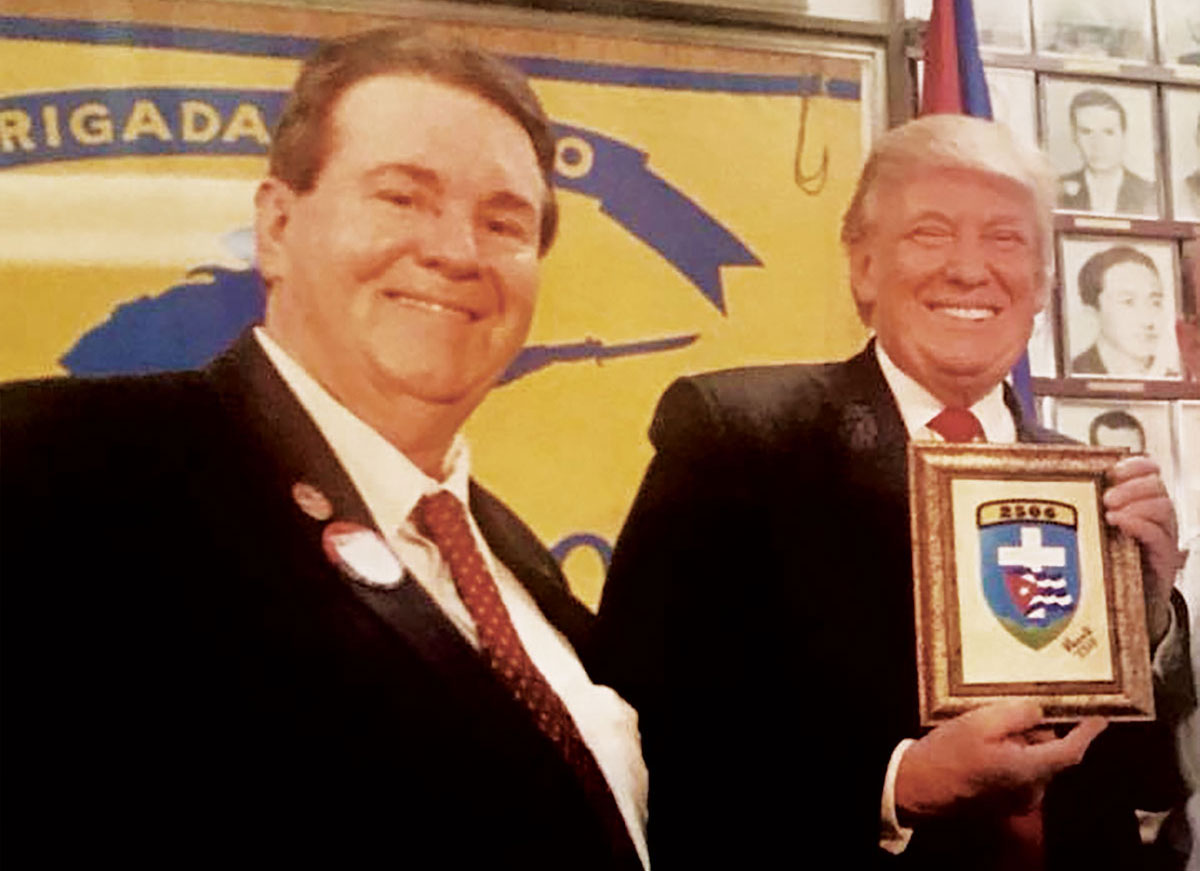 He is married and has a daughter and a grandson.
Other topics of discussion on The Sentinel Report included the fact that new polling data shows Democrats are losing ground with Latino voters, the fastest growing demographic in America.
According to polls, 37% said they would support the Republican congressional candidate, 37% the Democrat, and 22% were undecided.
Before bringing on Frank, Newman went through the news, including:
-Denmark's former immigration minister Inger Støjberg was just sentenced to jail for separating allegedly "underage" asylum seekers from their spouses or partners.
–After taking the most hands-off approach of any Western country and facing among the lowest COVID problems, Sweden's new prime minister is doing a u-turn, pushing vax passports and other tyranny.
–Why did Amazon put zombies in its service terms (42.10) for Amazon Web Services? It reads: "However, this restriction will not apply in the event of the occurrence (certified by the United States Centers for Disease Control or successor body) of a widespread viral infection transmitted via bites or contact with bodily fluids that causes human corpses to reanimate and seek to consume living human flesh, blood, brain or nerve tissue and is likely to result in the fall of organized civilization."
–House of Representatives is working to hold former Trump chief of staff Mark Meadows in contempt for refusing to cooperate with the Star Chamber fraud known as the January 6 Commission.
–Far-left propaganda outlet New York Times is agitating for Big Tech to start censoring email now, because apparently it's "teeming" with "misinformation" from Republicans (but not honest Democrats) and Americans can't be trusted to decide for themselves what to believe.
–Chris Cuomo's right-hand man was arrested for raping a 9-year-old child and trying to pay parents to obtain additional children for his perversion.
–Incredible new documentary called "The Mind Polluters" on the sexualization of children in government schools featuring interview subjects such as Ken Ham and Alex Newman will be released very soon.
–Is political polarization reaching critical levels in America? According to a study published in the Proceedings of the National Academy of Sciences, it is getting so intense it threatens the survival of American society. "The process resembles a meltdown in a nuclear reactor," the study author explained. "Up to a point, technicians can bring the core temperature back down by increasing the flow of water used to cool the reactor. But if the temperature goes critical, there is a runaway reaction that cannot be stopped. Our study shows that something very similar can happen in a 'political reactor.' The voters are like the nuclear technicians. It's up to us to bring the political temperature back down before it is too late."
–Omicron: A growing number of scientists and doctors not on the Big Pharma dole is pointing out that Omicron is GREAT (if not vaccinated) because you can get COVID, it will be extremely mild, and you'll get immunity. But if you got the vax, you are in trouble.