Evangelical Christians in Poland launched the #ChristiansForUSA campaign to publicly support the United States and President Trump amid the coordinated assault on both. The goal is to preserve Christian civilization.
The organization, known as Go Against The Tide TV, works to spread the Gospel and liberty in Poland and beyond.
"As Free World, especially the United States of America, is being attacked by the CCP virus and the Antifa brawls on an unprecedented scale, President Trump has referred to the fundamental values ​​of America: the church and the Bible," the group said on its website. "For this, he is under the hatred of not only leftist activists, but also many Christian authorities. That is why it is so important today that thousands of Christians stand with President Donald Trump and show faithfulness to Jesus and the Bible."
The group, known as Idź Pod Prąd TV in Polish, is an independent TV station that disseminates the most important news from Poland, Europe, America and the world. It regularly features Liberty Sentinel founder Alex Newman as an analyst on U.S. and international affairs.
The #ChristiansForUSA campaign was launched by Polish Pastor Paweł Chojecki, a prominent evangelical leader and anti-communist patriot who also created the TV station to share news from a biblical perspective.
"Support President Donald J. Trump who fights in the first line of defense of our civilization," the Polish Christians said in a statement about the campaign. "A mighty river wouldn't exist if it wasn't for millions of drops. JOIN
Under President Obama, there was a fear that the United States would lose its Christian roots and identity, the organization said in announcing its campaign.
Indeed, Obama even announced publicly that America had ceased to be a Christian nation! And in 2015, the U.S. Supreme Court legalized the so-called same-sex marriage. Predictions appeared that the time of persecution of Christians faithful to Jesus would begin in America.
"I think there's a very real threat that Christians will face discrimination, opposition, loss of jobs, overt discrimination and loss of religious liberty," warned Albert Mohler, president of the Southern Baptist Theological Seminary.
"But then, Donald Trump became the president of the USA!" explained Go Against the Tide. "President Trump not only gave Christians hope but, while in office, he stopped anti-godly trends and began restoring Christian heritage in America. That is why he is so hated by the forces of the Evil Empire, both inside and outside the US."
#ChristiansForUSA: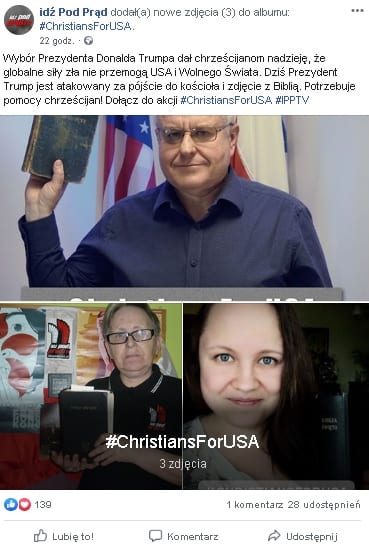 "When the Evil Empire wants to win the battle for the souls and minds of people around the world, we Christians cannot stand aside," a spokesman for the group said. "The fall of Christian America will mark the end of Christian civilization around the world."
"Great politics does not take place only among leaders and in diplomatic salons. Primarily, it takes place in you," continues the statement. "Your opinions, your declarations matter! A great river would not exist if it were not created by millions of drops. You and I can do something together."
"To bear witness to the Truth, to resist Evil, and to support people who are fighting in the first line of defense for our civilization," the group concluded, asking Christians to take a photo of themselves with the Bible and post it online with the hashtag #ChristiansForUSA. "Show your support for the Christian foundations of America and President Donald Trump!"